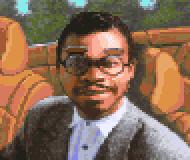 Orpheus Hanley
was caught speeding by Sonny Bonds on the way to his girlfriend. Bonds gave him a traffic citation and told him to be careful in the future.
According to the police computer, Orpheus lives on 201 Fig st., Lytton. He has black hair, brown eyes, height 5' 11", weight 140 pounds, and was born on February 6th 1967. His driver's ID is 522341 Class C. He drives white Mercedees plate no. 34567, VIN 77668.
Behind the scenes
Edit
The character was played by an actor whose name is also Orpheus Hanley, an employee of Sierra On-Line.