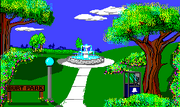 Steelton
(aka
City of Steelton
) is a city in
New Mexico
or
California
[1]
.
Locations
Edit
Streets & Highways
Edit
Behind the scenes
Edit
Steelton's location in the games is unclear (except in the PQ1VGA reboot). It is implied to be some distance from Lytton, California, and to be a kind of sister city (at least one officer transferred from Steelton into Lytton Police Department). Also Bains drives between Lytton and Steelton when he kidnaps Marie Wilkans.
PQ3 manual, suggests that Bonds was led on an interstate chase between Lytton and Steelton, suggesting that the two cities are in separate states altogether (although technically not all interstate highways pass between multiple states, but in most instances they do).
Steelton's location is said to be in New Mexico in the Police Quest Casebook, and said to be in California in PQ1VGA (although that game is a reboot of the timeline).
References
Edit
↑

Narrator (PQ1VGA): "It's a Ph.D. in Criminal Psychology from the University of California-Steelton]]
Ad blocker interference detected!
Wikia is a free-to-use site that makes money from advertising. We have a modified experience for viewers using ad blockers

Wikia is not accessible if you've made further modifications. Remove the custom ad blocker rule(s) and the page will load as expected.